While the anticipation for the largest scale music event with line-ups insensitive to our heart rates is growing each day, to provide some guidelines on how to strategize the upcoming party schedule, we presented the ADE essentials for each day of the festival. Now it is time to talk non-party.
Underneath we present a list of daily events, that we are mostly anticipating about. Be mindful that there are over 100 other events you can go to, which you can check on the complete list here, thus this list is our subjective picks.
One thing is clear. Take your week off and prepare for a full time-out from the daily issues. Since the main problem you'll be having during a week filled with talks, workshops, film screenings, tutorials and technology showcases, is how to be at several places at a time.
TALKS
Merely reading these two names of the two men of the different millennia meeting at the same space already creates a vision of a cross-dimentional movie scene. Thursday, the 15th. Night owls, mark this date red and set your alarm clocks, cause this event will get into the history pages of EDM. Jeff Mills will be working within the walls of the studio once used by Rembrandt at The Rembrandt House Museum in Amsterdam from 9 to 12 in the morning and then following the session, he will reflect on his experience in this space for ADE MusicTalks at Flemish cultural centre De Brakke Grond at 6 in the evening.
Out of so many talks during the conference, one to highlight is a talk by Orbital's Paul Hartnoll and Boris Blank of Yello. Both of the guys are grand masters of the industry, who, while breaking all the rules, manage to score best-selling albums and appeal to wide audiences, still staying faithful to their original sounds. The duo will be talking on Friday 4 o'clock in the evening.
The series The Evolution of My Sound present three artists of undeniably distinctive sounds to tell their personal stories their explorations, which lead to the point of finding their own style and sound: Machinedrum, Thursday 16:30, Joris Voorn Friday 18:30 and, a to top it all, Henrik Shwarz on Saturday 18:00.
And if you have an opportunity to attend one of the ADE special events, these lectures are absolutely worthy to highlight among many more, that we simply just don't have space to put it.
To hear from the man himself, the founder of UK record label Ninja Tune, half of the DJ duo Coldcut, Matt Black, who has dedicated his life and work actively advocating the philosophy on sustainability issues and social justice to hear what it means to 'create positive art, music and spiritual technology to blow the minds of the entire planet and catalyse the advancement of cooperative stategies', trully intrigued.
It is always interesting to hear it from the source and before there was house as we know it today, the spirit and drive of modern electronic music already lingered, in the form of the real instruments among acts such as Can, Kraftwerk, Neu!, Yello, Ash Ra Tempel, Amon Duuland so on. ADE brings together these pioneers on Thursday during ADE Pro.
FILMS
There is something very inviting about a comfy cinema chair in a dark hall and getting yourself in the mood for inspiration and exploration that only cinema can take you to.
This year Cineville prepared a heavy weight movie programme at the beautiful venue of De Balie Cinema. (Un)suprisingly we thought it would be a shame to miss out on any of the movies throughout the days of the festival.
Everyday 5P.M and it starts on Thursday with Soundhunters, a documentary about musicians hunting for extraordinary sounds to compose music with everywhere around the world. The second one, and one I am definitely not going to miss out, is a documentary on house music of South Africa The Future Sound of Mzansi streamed on Friday. The comment by the narrator Spoek Mathambo builds the after movie mood itself: "Still a country steeped in poverty, crime, and injustice, South Africans party like their lives depend on it.". It gets even more musical with an on screen selection of the best music videos of the past year Fullscreen met Job de Wit for the party on Saturday.
An ultimate blend of silent cinema and house is about to take form in a world premiere of Marc Houle's original score for 1920s Japanese Masterpiece A Page of Madness. His live composition is to be shown on Thursday 9 in the evening.
POP-UP STORES
Pop-Up Stores usually become the ultimate place of a daytime party, with free DJ & live showcases and industry people just hanging around during the day. These are the few to have in mind. Ones to mention among many others worthwhile to pass for an old-fashioned rave with Dj's joining in behind decks the last minute, Kompakt & Oz. Pop Up Store, Mary Go Wild, who had their opening on ADE just last year and InDeep'n'Dance Records.
ART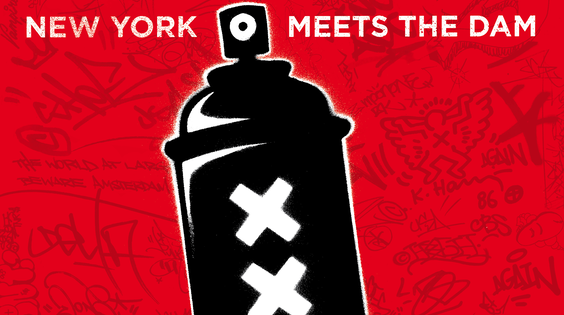 Hidden in the core of the city, The Amsterdam Museum will be buzzing with exhibitions covering street art. For one of them the museum joined forces with The Museum of the City of New York: an exhibition dedicated solely to graffiti in New York and Amsterdam. With a massive collection of over 200 pieces of art, it tells the story of how graffiti reigned supreme in 1980s New York and reached across the ocean to inspire Amsterdam graffiti writers too dedicated solely to graffiti in New York and Amsterdam. In addition to that the exhibition can be viewed on tour while tasting local beer.
The public opening of this special art exposition curated by the director of Van Gogh Museum Axel Rüger, carrying out the theme NIGHT with a diversity of art (photography, light art, installations, video art and more), will take place on Wednesday including music by dance-labels Zauer, Triphouse, Electronique and Hijacked and some culinary masterpieces by the chef of The Stars, Onno Kokmeijer.
And finally, some very much deserved attention to the album cover art by upcoming promising artists for albums released by various labels presented in an ongoing exhibition at the literally Mini Galerie on Kinkerstraat.