Record label/ 'ménage à trois', Studio Barnhus, consists of three lads from Sweden Kornél Kovács, Axel Boman and Petter Nordkvist.  Seemingly not taking anything, except beat matching and the music itself,  serious has been working more than well for these guys. Originally started as an idea to only release productions from the founding trio, it didn't take long until friends and lovers who happen to play great music, joined. Right before their label night at Studio 80 this Friday we had a session of 13 serious questions and got even some serious answers.
 Studio Barnhus: boys born in the Scandinavian orphanage bonded by the love of music and hatred towards the stupid nuns. That was just one of the fictional biographies and legends written about the trio. Studio Barnhus is a record label as well as the umbrella name for what happens when Petter, Alex and Kornél play together, but it started out as (and continues to be) their studio home in Stockholm.
Axel Boman, an art school grad and the man behind 'Purple Drank', defined by his playful, trippy, banging house with a good sense of humor. His confidant Kornél Kovács, one of the top DJ's from Stockholm, who scored the brand new insta-anthem 'Szikra', brings a half a lifetime's dedication to dance music, club culture and funkying around. Petter Nordkvist's mixes and productions are known for fusing together techno, electro, dub, ambient, acid, breaks and deep house in his own unique style.
See also: EXCLUSIVE INTERVIEW + PODCAST STUDIO BARNHUS
Your studio, the one you all started at, the one that should still have the "really powerful" explosions due to a new tunnel under the city being built, the ones that should be happening till 2016, are you still all working there?
Yes, we are still in the same place, but as a compensation the railroad company decided to connect our studio with the massive complex of tunnels beneath the city, so now we have instant access to the metro station and really creepy tunnel people knocking on our door at random times.
In one interview you mentioned the transition from one long table and a seat at it for each of you, to each one having a wall for himself. That was in 2011. How has that changed so far? And in which ways do you see Studio Barnhus growing now?
We tried to have separate spaces but it didnt work out so now we are back at using one table but having Petter work beneath it, connecting chords and giving us foot rubs, it's awesome! We want to become a real professional label now that sells merchandise and stuff, that's the future!
You put a great deal of experimentation in your samples, what have been the most "exotic" explorations in your sample collections?
It's always an adventure to put on music from the country of Africa. That place is just nuts – it's like they don't even have drum machines!
Kornél, what was the reason you made the temporary move for the Radio Koko to Numbers?
That situation with Numbers was just an old gambling debt being settled and Kornél is doing much better now. He hasn't been to the casino in weeks!
You all participated at the Red Bull Music Academy? How was the experience and what have your pivotal lessons in producing been in general?
We have tried all kinds of beverages but the only one responding to BPM is Red Bull!
We have got to talk about Baba Stiltz's "Cherry"! Where and how did you find him? When did you start working together?
Baba was dancing at the ballet academy that Kornél's father runs here in Stockholm. One day Papa Kovács thought Baba was falling behind on his pirouette technique so he kicked Baba right on the shin, ending the young boy's ballet career with one fatal blow. We felt sorry for the kid and invited him into the Studio Barnhus family. The rest is history!
[youtube id="DPBNGeOj3l8″ width="620″ height="360″]
Do you have a lot to do with the productions of the artists releasing under your label?
Yes, we always tell them: more and sharper hi-hats! Like this: ch-ch-ch-ch-ch-ch-ch-ch! And then one week later: no, now it's too much, bring it down! Haha, dance for us, stupid hi-hat monkey!
Your images, interviews, bios even press pics are open about not taking stuff seriously. Two questions arrive from here. Is there anything you do you take seriously? And would you share your best memory altogether?
OK, so we take beat matching seriously and our realest shared memory is taking the train to Örebro last year, to see Swedish rock poet Bruno K. Öijer's floor show.
What do you appreciate most in other producers?
Good producers come in all shapes and colours but it's generally good if they are Lukas Nystrand von Unge.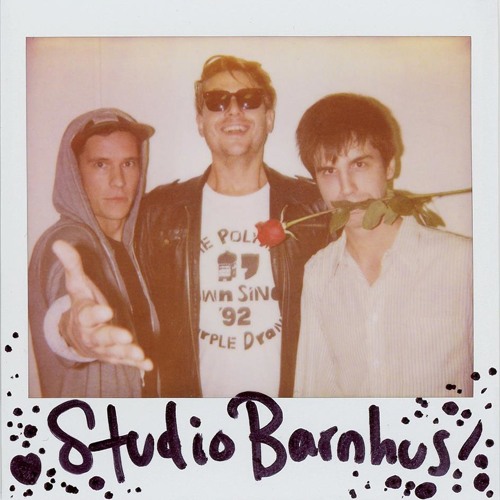 Could you say what is about you three that is different from each other when you play?
Not a lot, really. Maybe Petter is just a little bit better than the other two guys.
December last year you had your night in Trouw. That was one of the last nights of the club in general. How was it?
It was definitely the most nu-metal influenced Studio Barnhus gig ever, thanks to our label manager Olle's epic skills on the drum set.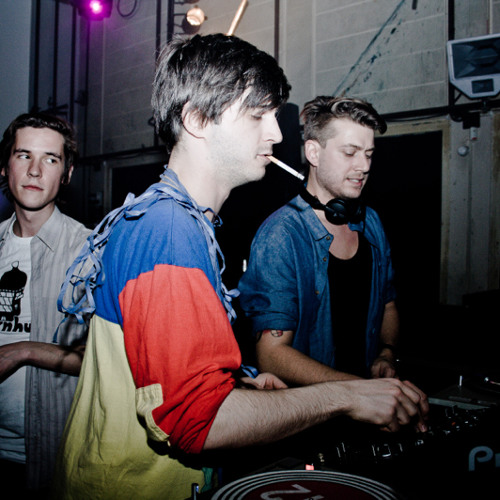 What have you planned and how are you preparing for the upcoming label's party in Studio 80 in Amsterdam?
We are gonna rock the party, you know it! Time to get super crazy in the club for sure! Hopefully we are famous enough to fill the venue and from there on it's just easy.
Which have been your favourite releases under Studio Barnhus this year?

The Japan only 7" that we're bringing over there in a month. It's the first record to feature all three of us since BARN 001!